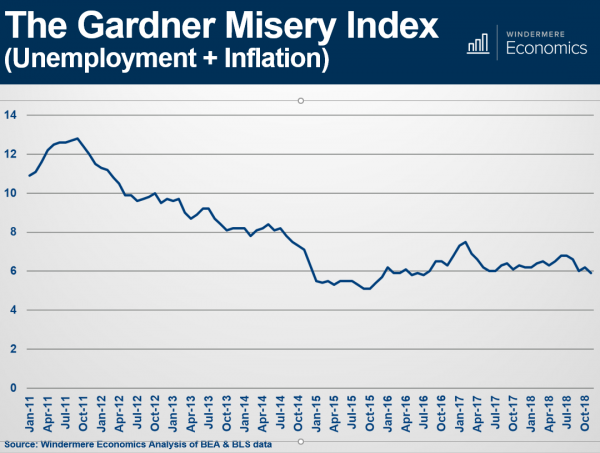 Last week at our Market Forecast events, Chief Economist Matthew Gardner shared, among many stats, his famous "Misery Index."
A valuable statistic with a funny title.
The Misery Index simply measures inflation plus unemployment.
It's an effective way to look at our Nation's economy.
Today's Index sits just below 6%. Back in October 2011, it was close to 13%.
The lowest it has been in the last 7 years is October 2015 when it was near 5%.
________________________________________
If you would like a copy of the entire Forecast presentation, go ahead and reach out to us.
We would be happy to put it in your hands.
Posted on March 1, 2019 at 4:23 pm
Philip Cooper
Category:

Fun facts, Windermere
Tagged

economy, Fun Facts, g, Index, Inflation, Market Forecast, Matthew Gardner, Misery Index, Statistics, Unemployment, Windermere Real Estate
Metro Denver has 2.1 months of inventory on the market. This means that, at the current pace of sales, it would take just over 2 months to sell every single-family home currently listed for sale.
But that's not the whole story because inventory levels vary drastically depending upon the price of the home.
When we take a closer look at months of inventory broken down by price range this is what we see:
• Under $400,000 = 0.9 months
• $400,000 to $500,000 = 1.8 months
• $500,000 to $750,000 = 3.1 months
• $750,000 to $1,000,000 = 4.2 months
• Over $1,000,000 = 7.7 months
These numbers represent great news for move-up buyers because they can sell in a strong market and potentially move up to a market that is market that is not as strong.
Below is a short video with a recap of our annual Market Forecast presentation!
Posted on February 20, 2019 at 4:15 pm
Philip Cooper
Category:

Buyers, Fun facts
Tagged

For Buyers, Fun Facts, Market Forecast, Market News | Tagged inventory, Metro Denver, Move Up Buyers, Move up Market, Single-Family Home, Windermere Real Estate